Opera brings crypto browser with integrated wallet
Ethereum and NFTs can be purchased directly, and various blockchains such as Polygon, Solana and Cosmos are also added. The Opera browser has eked out its existence as a niche product in recent years and was preinstalled as a browser on televisions, among other things. Now the company wants to focus more on the topic of crypto.
ETH purchase via browser
The purchase of Ethereum can be processed directly from the browser with just a few clicks. This is made possible by the integrated crypto provider Ramp, via which ETH can be purchased using a credit card. However, the fees for the network and the operator are quite high, which makes this feature less attractive.
The ETH purchased via the crypto browser can, in turn, be used to buy NFTs on marketplaces like Opensea or Rarible as well as to exchange them for Ethereum-based tokens. Bitcoin and other major platforms are not currently supported, nor can ETH currently be received in one's wallet.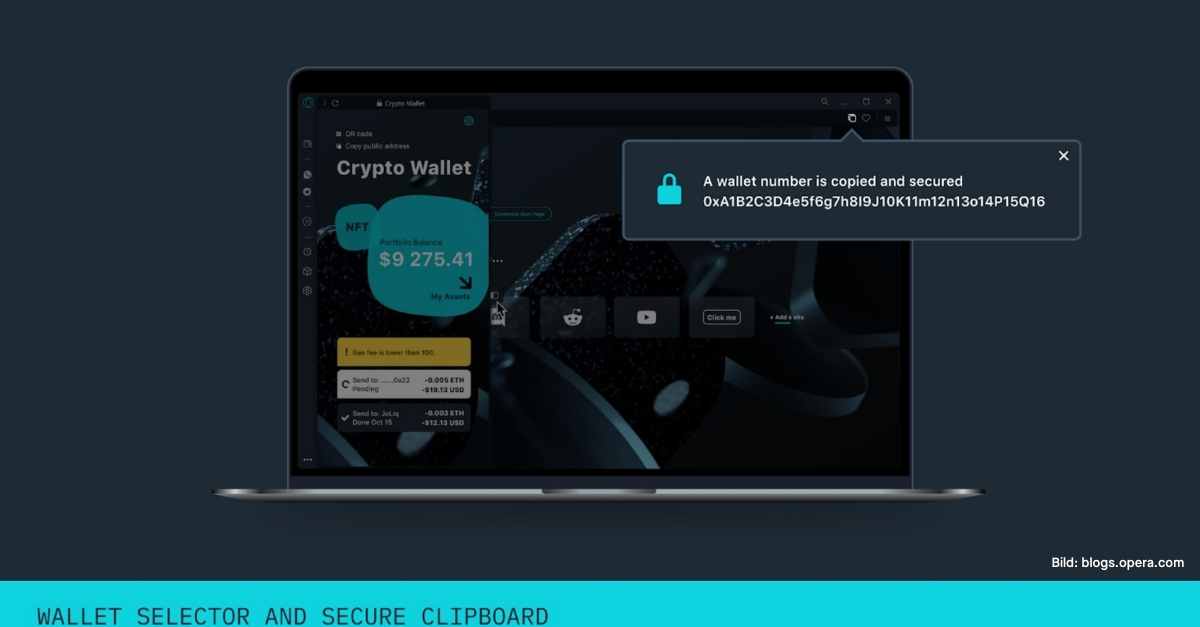 Security offensive
What is lacking in functionality is made up for in security: Opera offers an adblocker, a VPN function to hide the IP address, and a secure clipboard that cannot be manipulated. Opera also wants to prevent manipulation of wallet addresses copied to the clipboard. Here, there have been cases of manipulation by malware that changed the addresses in the past. According to Opera's announcement, the version now released is probably just the start of a new crypto and Web3 strategy that Opera has been experimenting with for years.
Cooperation and Layer 2 solutions
In setting up the Crypto Browser project, Opera is pursuing an inclusive multi-chain strategy, entering numerous app and domain name partnerships to make the use of crypto and Web3 seamless for users. In addition to partnerships with Polygon, Solana, Nervos, Celo, Unstoppable Domains, Handshake and ENS, more partnerships are being worked on.
One of the main problems associated with blockchain technologies is the relatively slow speed and high energy consumption, which leads to both environmental issues and higher transaction costs. This has been a major focus of blockchain developers for several years now, with massive improvements introduced as part of the transition from proof of work to proof of stake. Ethereum Layer 2 solutions and alternative blockchains provide the means to make transactions more environmentally friendly.