More efficient BTC mining
Bitcoin mining has a lot in common with mining real metals in mines: it's hard, sweaty, energy-intensive work. The current proof of work process for finding new blocks is very energy-intensive and a thorn in the side of many. Ethereum therefore wants to say goodbye to PoW as early as 2022.
Jack Dorsey, founder of Twitter, now wants to make mining more efficient and environmentally friendly with an open bitcoin mining system. With his fintech company Block (formerly Square), Dorsey wants to develop chips for bitcoin mining rigs himself. These address the shortcomings of current rigs: Poor processing, unreliability, noise and other emissions, to name a few.
Thank you, China
The system, which is open to all private individuals and companies as an open source project, is supposed to function simply, be more reliable and work more efficiently. Unfortunately, Dorsey has not yet given a timetable; the project team is currently being set up. His efforts are certainly positive, then after the China Ban in the summer of 2021, the hashrate has recovered from its slump and is striving towards a new all-time high.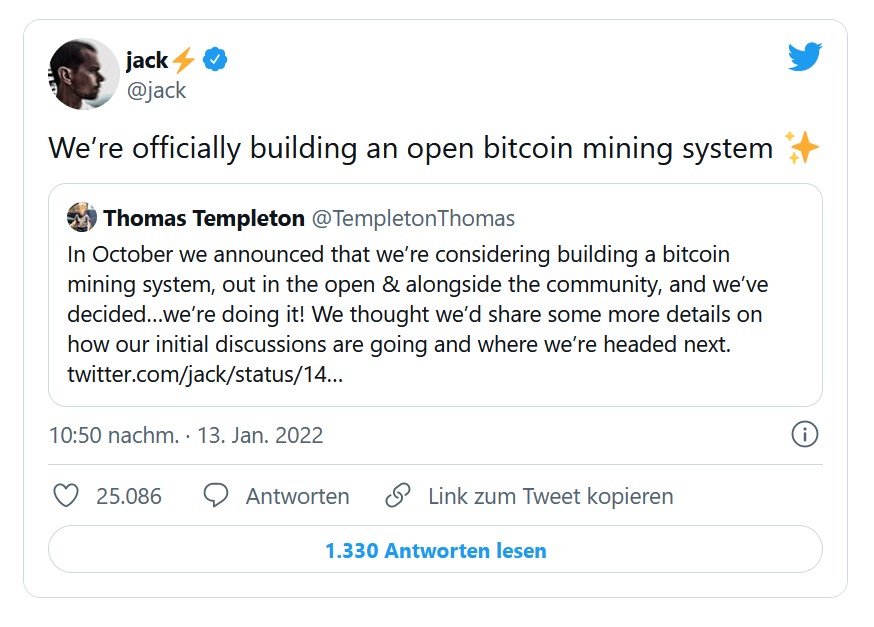 In mid-January, the Bitcoin hashrate stood at an all-time high of 183 exahashes per second (EH/S) on average. This means that the accumulated computing power has increased significantly within a week and also exceeds the level of the time before the crash caused by China in the summer of 2021, when the hashrate was around 173 EH/S before it dropped to below 90 EH/S within a few weeks.
After just over half a year, there is no longer any sign of this slump. The decline has been levelled out and the hashrate is heading for new heights. The mining business is booming and the industry is expanding and tends to expand even further, as besides the 16 Nasdaq-listed mining companies, another 7 are waiting in the wings.
So China's attack on the Bitcoin network has pretty much done the opposite of what was intended: on the one hand, the network has proven its robustness, which greatly contributes to its attractiveness and trustworthiness. On the other hand, the China Ban resulted in a global redistribution of the global hashrate in both a geographic and economic sense. And ultimately, Bitcoin has also benefited in terms of its basic idea, as it now presents itself to investors in a more decentralized and secure manner than before.